Quiet Pressure Cooker:7 Silent Pressure Cookers Without Whistle
Looking for a quiet pressure cooker for your kitchen?. Perfect, you're in the right place. In this pressure cooker without whistle guide, you can expect to learn the following:
What is a pressure cooker?
How does a pressure cooker work?
Our top-rated   quietest pressure cooker picks
Quick Buyer's guide on a pressure cooker
How long does it take to build pressure in a pressure cooker
Can you leave the pressure cooker unattended to?
And more…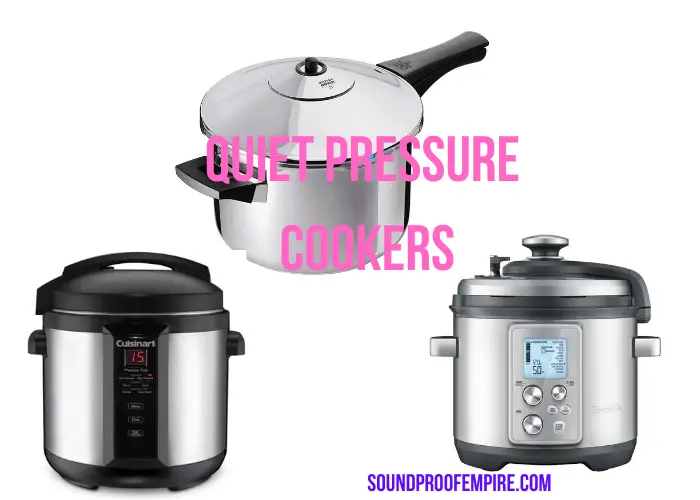 Most pressure cookers are by no chance the quietest appliances you will find in most kitchens. If you have used one before, I am sure you know what I am talking about. When operating at full pressure, they can make a lot of noise.
But if you are a mom like me, you know that whistling noise can wake up your littles from napping or even make them frightened when awake. Of even you just want a quieter home to enable you to watch the TV, have a quieter conversation or you don't want to disturb the neighbors sharing walls with you.
There are many reasons why purchasing the quietest pressure cooker is a worthy investment.
Luckily for us, there are certain brands of pressure cookers that are designed to operate quieter even at full pressure.
If you have not used a pressure cooker before, you may be wondering;
What is a Pressure Cooker?
Pressure cooker was invented by a Frenchman called Denis Papin in the 1600s. His aim was to translate new discoveries in Physic about pressure and steam into cooking.
His invention was called the "Digester". But after his first pressure cooker, a lot of time was then invested into making it better and safer in order to meet manufacturing standards and technology.
In simpler terms, a pressure cooker uses steam to cook. A pot s sealed with a lot of steam inside and then builds up high pressure which helps in cooking the food faster.
How Does a Pressure Cooker Work?
Pressure cooker is a sealed pot with a valve that controls the steam pressure inside. As the pot heats up, the liquid inside forms steam which then raises the pressure in the pot. When this happens, two major effects take place inside the pot.
The boiling point of the liquid inside the pot is raised:. The pressure of the steam pressure can be as high as 250°F. The higher the better as it helps the food to cook faster.
Another effect that happens inside the pot is the pressure is raised forcing the liquid into the food. The high pressure forces the liquid and moisture into the food to help it cook faster.
So, that is a basic explanation of how a pressure cooker works.
Best Quiet Pressure Cookers Without Whistle
Here, you will find some of the best pressure cookers without noise from the top brands of pressure cookers that will make your kitchen quieter.
1).  Instant Pot Ultra 10-in-1 Electric Pressure Cooker
The instant Pot pressure cooker is one of the heavily automated silent pressure cookers around. There are different sizes to choose from to meet your pressure cooking needs. It is an ultra 10-in-1 multi-use programmable pressure cooker.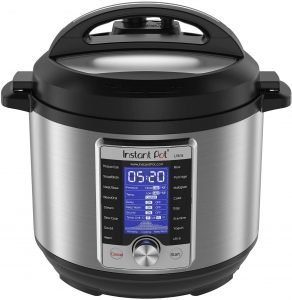 Equipped with advanced microprocessor technology, 16 smart programs, this stainless steel inner pot
replaces 10 common kitchen appliances such as slow cooker, rice/porridge, cake maker, yogurt maker, egg cooker, steamer, warmer, sterilizer, and saute/searing.
The microprocessor monitors the pressure and temperature, keeps time, and adjusts heating intensity and duration. Plus, it is UI certified with 11 safety features to give you peace of mind when it is running.
---
2). Cuisinart Quiet Pressure Cooker
This Cuisinart pressure cooker makes it easy to make an entire meal or side dish fast. With its fingerprint-proof brushed stainless steel housing and push-button control, you can easily change cooking options and program the settings of low and high pressure, simmer, browning, saute and automatic keep warm.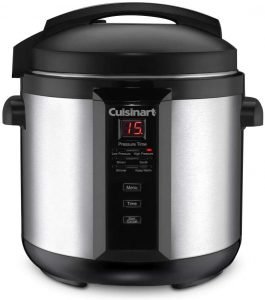 With this 1000W pressure cooker, you can easily choose from the three sizes available: 4-quart, 6-quart, and 8-quart depending on your cooking size.
The pressure cooker has 99-minute time and LED countdown display:
0-40 minutes = 1-minute increments 40-99 minutes =5-minute increments. The unit is dishwasher safe and comes with a 3-year limited warranty.
3). Breville Pressure Cooker
The Breville fast slow Pro multicooker is designed to automatically adjust time, temperature, and pressure between fast and slow cooking. With this cooker, you can pressure cook, steam, slow cook, reduce, saute, and sear with the push press of a button.
It is equipped with dual sensors at the top and bottom to monitor ingredients for more accurate temperature and pressure control while the hands-free steam release automatically varying across foods to maximize flavor and texture.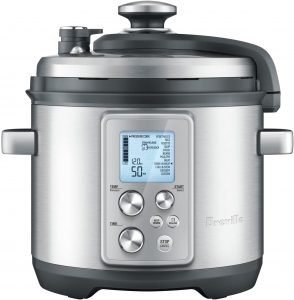 The color-changing LCD tells you when the cooker is pressurizing, cooking, or releasing steam. The LCD display is able to tell you what's happening inside the pot. It also has a 3-way safety system/ safety locking lid, and a safety valve.
You can use the 11 pressure settings or custom set it to suit your needs. With a size of 6-quart, you can make enough meals for the family.
---
4). Kuhn Rikon Duramatic Pressure Cooker
Swiss company Kuhn Rikon has made the pressure cooker quieter, safer, and a smart option in today's world, given how quickly it cooks and how much energy it saves.
This 7.3/ 8-quart saucepan style pressure cooker is made of 18/10 stainless steel; holds up to 4 pint or 3-quart jars for canning. It gives your food even browning and rapid heat absorption for fast cooking.
Its also equipped with 5 over-pressure safety systems, an automatic locking system, a spring-loaded precision valve, and help you save up to 70 percent of energy. This pressure cooker without whistle is backed with a 10-year warranty.
---
5).  Fissler Vitaquick 8.5 Quart Premium Pressure Cooker
This Fissler silent pressure cooker have available four sizes to choose from. Namely; 4.8-quart. 6.4-quart, 8.5-quart, and one size.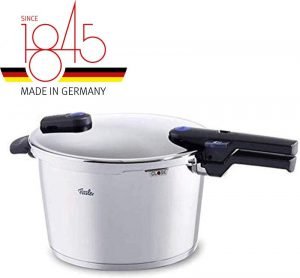 This quiet pressure cooker is designed to work on all types of stovetops: electric, gas, glass-ceramic, and induction. So if you are looking for a quiet stovetop pressure cooker or quiet gas pressure cooker, then look no further as this pressure cooker is able to work for all types of stoves including induction.
Features include a unique positioning aid, two markings for gentle and speed settings, and a locking indicator. In addition, comes with a measuring scale and an evaporation valve which enables comfort, as wasted steam no longer builds up on the handle.
---
6). WMF Perfect Plus Pressure Cooker
This attractive WMF perfect plus pressure cooker is designed to be durable and the Trans Therm base evenly distributes heat and brings excellent high-temperature retention.
With this pressure cooker, you have four available sizes to select from; 3-quart, 4.5-quart, 6.5-quart, and 8.5-quart.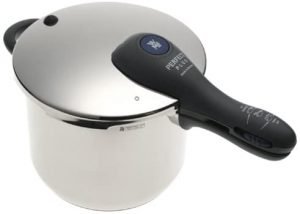 The black phenolic handle is ergonomically designed for comfort and resists heating; additionally, it easily detaches to simplify cleanup.
In the event of excessive pressure build-up, there is an integrated safety feature which is an audible indicator of the need to reduce the heat.
This pressure cooker is able to lessen your meals cooking time by up to 70% while at the same time, it preserves all the vitamins and minerals in the meal.
7). Mueller UltraPot 6Q Pressure Cooker
The Mueller Ultrapot pressure cooker is one of the quietest pressure cookers on this list the is also very affordable. Going for less than 100 dollars at the time of writing this post.
It is 10 appliances in 1 and has 15 preset smart programs. You have the flexibility of manually inputting the cooking times or you can use the pre-programmed smart programs already set for the many dishes like oatmeal, poultry, yogurt, egg, meat/stew, cake, slow cook, steam, saute, canning and multigrain, beans, rice and more.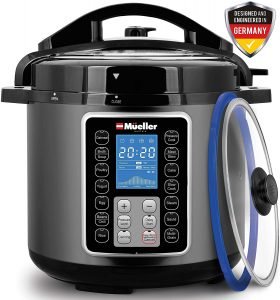 It is UL and ULC certified with 8 safety mechanisms in place to provide you with added assurance, designed to eliminate many common errors.
Built with the latest generation technology, microprocessors monitor pressure, temperature, keep time, and adjust heating intensity and duration to achieve your desired results every time. 
---
Quick Buyer's Guide on Pressure Cooker
With the many pressure cookers in the market, if you are not sure of what exactly to look for, here are few features to consider when getting a new pressure cooker.
Interesting Reads:
Spring Valve for Stovetop and Float Valve for Electric Pressure Cookers
The spring valve non-venting cookers have the pressure-regulating technology and it won't make a lot of noise in your kitchen as if steam engine pistons are firing. Modern spring-valve pressure cookers make little noise while cooking and need less energy.
Additionally, the electric pressure cookers have a weighted float valve which is energy efficient and quiet. The float valve on the electric pressure cookers does not regulate the internal pressure. Instead, it is done by the electronic logic that turns the heating element On and Off.
Non-Stick Coatings
If possible avoid getting cheap non-stick coatings as if they scratch, they can be easily damaged. They can be scratched by sharp ends of bones or a metal steamer basket exposing the aluminum underneath to be in contact with the food.
Material
Quiet stovetop pressure cookers should be made of stainless steel because the cheaper aluminum cookers can easily deform and can also reactive with some acidic foods like tomatoes, lemons, wine, and more. Thereby changing the flavor of the food.
Atleast Two Pressure Settings
A pressure cooker should have at least two pressure settings. A "high pressure" for meat, legumes, and other foods that are denser and takes a longer time to cook and "low pressure" for foods like fish, eggs, pasta, and veggies.
Some pressure cookers have a switch on the lid to select the pressure settings and others too will display the settings for you to select from by touching a button.
Electric vs Quiet Stovetop Pressure Cooker
The truth of it all is that they are all pressure cookers and can pressure cook. But they differ on the recipes they can cook and how long they need to get the job done. Either way, they are still better than conventional cooking.
Electric pressure cookers are more convenient but less powerful and durable. They are best for people who are nervous about fiddling with heat settings – Quiet electric pressure cookers can automatically set itself.
Electric pressure cookers can also replace other kitchen appliances like slow cookers, rice cookers, and yogurt makers. Great for students with limited space, busy parents who need to schedule dinner, good for the elderly and disabled who don't need to remember settings, and more.
Quiet Stovetop Pressure cookers on the other hand are durable, have more speed and power. They can reach higher heat and pressure than electric pressure cookers.
Ideal for cooks who want to try advanced pressure cooking techniques and also want to supervise the cooking since the pressure releases faster than electrics.
How Long Does It Take to Build Pressure in a Pressure Cooker
There are a couple of factors that will determine how long it takes for the pressure to build up in a pressure cooker. The number one factor that will influence the time it takes for the pressure cookers to get to pressure and heat up is, the amount of liquid and ingredients you add to the container.
Less liquid inside the pressure cooker will result in faster pressure and heat and more liquid will take longer to reach pressure and heat.
It can take anywhere between 5-30 minutes for a pressure cooker to get to pressure. Things like the size, amount of liquid, type of valve and more can influence the time.
A full pressure cooker can take about 20-30 minutes to reach pressure. A half-full pressure cooker can take about 10 minutes to reach pressure, minimal liquid can take 3-5 minutes to reach pressure.
For most recipes, the electric pressure cooker will require no more than 10-15 minutes to reach pressure.
Frozen or cold ingredients: When a pressure cooker is filled with frozen or very cold ingredients, the time needed to reach pressure is anywhere between 20-30 minutes.
Soft foods like veggies and eggs can reach pressure within 5 minutes. Every pressure cooker has a manual that will guide you on the time it takes the cooker to reach pressure.
Can You Leave the Pressure Cooker Unattended To?
It will depend on the unit. Some pressure cookers like instant pots are heavily automated. This means that you can easily leave it the way it is, move around the house to get other stuff done and it will pressure cook without problems.
However, some older pressure cookers are not automated and will need to be checked on once as a whole. Hence there is a need to not leave a pressure cooker unattended.
Final Words on the Silent Pressure Cookers
A pressure cooker can save you a lot of time and energy. But since most pressure cookers are known to be noisy, that's why I did the research and came up with these pressure cookers without noise. That will help keep your kitchen quiet while you cook.
Depending on your budget, you can get one of the most quiet pressure cookers without whistle above for your needs. Some are more affordable than others.
Latest posts by Josephine
(see all)