Quiet Ergonomic Keyboards: 6 Best Silent Picks
If you are like me who likes comfort and stress-free typing then, a quiet ergonomic keyboard is a great companion anytime you are using the computer.
Quiet ergonomic gives you a quiet work environment that will help increase your productivity and also not annoy others around you with your typing noise.
Even though a loud keyboard might make you appear busy to others, others might construe it as annoying and disturbing.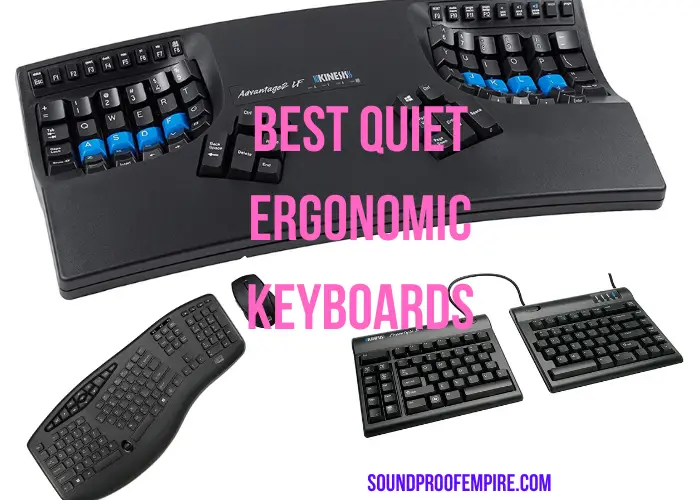 So, the best way to avoid this is to get yourself a silent ergonomic keyboard.  Having the quietest ergonomic keyboards is beneficial in situations such as sharing an office space whereby other workers are in the same space as you.
Quick Preview of the Top Silent Ergonomic Keyboards
In a hurry?. I understand. Here is an overview of the best quietest ergonomic keyboards in this guide.
If you are also a student who shares a hostel room and sometimes want to wake up early or work into the late hours of the night. In order to avoid disturbing the sleep of others, a quiet touch ergonomic keyboard will be one of the best investments for you.
Best Quiet Ergonomic Keyboards
Here we will look at silent ergonomic keyboard reviews that will help you to select the best silent ergonomic keyboard for yourself.
1. Kinesis Advantage 2 Quiet LF Ergonomic Keyboard
Kinesis Corporation was founded in 1991 with the objective of developing the first computer keyboard optimized for comfort and productivity.
After a series of testing and perfecting, Kinesis is still one of the leaders in innovative ergonomic keyboards design. Their products are wildly recognized as premium products for best in comfort, productivity, and programmability for both windows and Mac users.
The kinesis contoured advantage 2 is a quiet ergonomic keyboard of PC and Mac machines. It features Kinesis patented contoured keyboard design and low-force Cherry MX red mechanical key switches. This lowers major risk factors associated with using keyboards.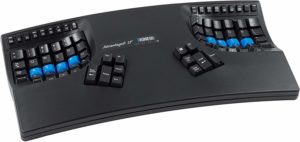 It features concave keywells that are in the shape of a scooped bowl to reduce your hand and fingers extension and to help relax your hand muscles. The design also puts the position of your arms at should-width to help in keeping your wrists straight and perpendicular to reduce abduction and ulnar deviation.
Orthogonal key arrangement mirrors the natural motion of your fingers to increase speed and comfort.
The Kinesis Advantage 2 is equipped with full onboard programmability with the Driverless Smart Set Engine. It can be customized into Qwerty or Dvorak.
It has one-touch key remapping, on-the-fly macro recording, and this quiet ergonomic keyboard work with major operating systems which include; Window7-10, Mac OS X, Linux, and Chrome.
---
2. Kinesis Freestyle Pro Quiet Ergonomic Split Keyboard
The Kinesis Freestyle Pro for Mac and PC offers the same advanced ergonomic features as the Freestyle2 but the Kinesis offers additional features like the full onboard programmability and low-force Cherry MX quiet red mechanical key switches.
The Cherry MX red mechanical; key switches have a linear feel, low activation force, and sound-dampening components to make them quieter than conventional mechanical switches.
With this silent split ergonomic keyboard, you can instantly switch between Windows, Mac, and Dvorak layouts or create your own.
This split ergonomic keyboard two key modules are connected by a 20-inch linking cable that you can adjust to suit your body type and preferences.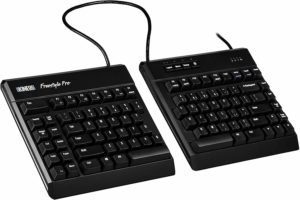 In case you might need additional separation, Kinesis has made provision for that. Simply remove the cable compartment cover located on the back of the left key module, there is more cable you can thread out more from there until you find your preferred width.
This quiet keyboard features zero degree slope form factor, it doesn't have a slope from front to back and because of that, you won't have to bend your wrists.
For some people who might be experiencing forearm discomfort, two tenting accessories are available to help you reduce forearm pronation.
This whisper ergonomic keyboard has VIP3 Pro (with palm supports) and V3 Pro (without palm supports) which attach easily to the underside of the Pro keyboard providing 3 easily adjustable slope settings of 5, 10, and 15 degrees.
This quiet wired keyboard makes programming a breeze with onboard shortcuts and the no-install SmartSet App. And with a standard 20″ linking cable everyone can find their comfort zone.
---
3. Perixx Periduo  Quiet Wireless Ergonomic Keyboard with Mouse
Perixx Periduo was founded in 2006 in Germany. Its aim is to be a solution provider for computer accessories such as keyboards, mouses, input and output devices.
This wireless quiet ergonomic keyboard is a quiet ergonomic keyboard with mouse combo which is designed with curved keytop geometry with naturally arched shape and an integrated adjustable palm rest stand that promotes neutral wrist position.
Furthermore, the keyboard features a split key design thereby separating the keys into two groups for the left and right hand to reduce the bending of your wrists outward while you are keyboarding.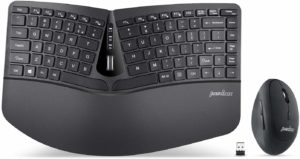 The keyboard has adjustable feet for people who need to see the keys easily. It also comes with a magnetic palm rest extender that can be attached to the bottom of the palm rest.
The tilt scroll wheel of the keyboard can be tilted in 4 ways for page navigation (up, down, left, and right). Additionally, comes with a built-in tilted foot stand to adjust the height to suit your arm positions.
The mouse features 5 buttons which include; right-click, left-click, scroll wheel, forward, and backward. Plus, there is a silent click feature that helps in eliminating noise and distractions for you and others around you.
The Perixx wireless ergonomic keyboard supports  Windows 7, 8 and10.
---
4. Kinesis Freestyle 2 Blue Wireless Ergonomic Keyboard for Mac
This quiet ergonomic keyboard for Mac combines a split adjustable ergonomic design with the convenience of Bluetooth connectivity.
Its multichannel technology lets you pair up to 3 Bluetooth-enabled devices such as Mac, iPad, and iPhone with this keyboard and instantly switch between them directly from the keyboard.
It is a silent ergonomic keyboard for all body types whether tall or small. You can adjust it to your preference.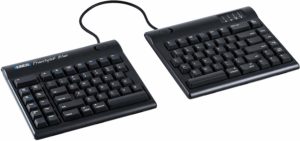 The two split modules are connected by a flexible pivot tether which allows for an infinite range of splay. Disconnecting the pivot tether also allows you up to 9 inches of complete separation of both modules.
Customize the position of the keyboard modules with adjustable split, splay and available tenting to achieve natural positions for your hands, wrists, and forearms to reduce static muscle tension and strain.
The Rechargeable Lithium polymer battery can last up to 6 months between charges.
The Freestyle 2 for Mac features a standard Mac layout with Mac-specific hotkeys, shortcuts, and multimedia keys to boosting your productivity. Mac OS X 10.4+ & iOS. No software or special drivers are required.
---
5. Kinesis Freestyle 2 Quiet Ergonomic Keyboard for PC
This Kinesis Freestyle 2 quiet ergonomic keyboard for PC allows you to rotate and separate the key modules up to 9″ to achieve natural hand, wrist, and forearm positions/
The Kinesis Freestyle 2 features a zero-degree slope which minimizes the height and effectively creates a negative slope and reduction in wrists extension.
Its slim design makes it perfect for office and travel. Because it is a quiet portable keyboard that can be easily carried along when traveling.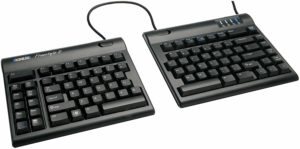 This ergonomic split keyboard is designed to accommodate a wide range of individuals. Whether small, tall or big. The keyboard can be adjusted to suit your desired preference.
Both the left and right modules are connected by a flexible pivot tether. However, you can disconnect the pivot tether and you can separate both modules apart by 9 or 20 inches. This design greatly reduces and or/eliminates ulnar deviation.
There is also an optional padded palm supports reduces wrist extension by keeping wrists neutral.
The Freestyle2 for PC features a standard Windows layout with hotkeys like Cut, Copy, Paste, multimedia keys, and an embedded numeric 10-key to boost your productivity.
---
6. Adesso Truform Media Wireless Ergonomic Keyboard with Optical Mouse
This Adesso ergonomic keyboard comes with an optical mouse that offers users two advanced input devices. This wireless ergonomic keyboard offers multifunctional features and a wireless range of up to 30 feet.
It has a split ergonomic keyboard design that is gently sloped to encourage the natural position of your hands, wrists, and forearms to ensure you get maximum comfort when you are typing.

This keyboard is for windows operating systems and comes with 10 windows hotkeys and 7 multimedia hotkeys.
The wireless Optical mouse not only provides a comfortable ergonomic design but is also equipped with a DPI switch for changing resolution (800/1200/1600) and two internet navigation buttons.
What is Ergonomic Keyboard and How Do They Work?
Ever wondered what is ergonomic keyboard?. Why do these keyboards look the way they look and how can ergonomic keyboards help you.
An ergonomic keyboard is a keyboard that is designed with ergonomic considerations for comfort, ease of use, and reduce strain on the user.
Unlike the standard keyboard where the user has to adapt to, ergonomic keyboards are designed with the user in mind. This way, using the keyboard becomes natural instead of adopting.
Such keyboards often have features such as concave or tapered keys, keys that are well-spaced, or keys that separate the angle out from a central pivot point.
All these are considered to ensure that using the keyboard will be more comfortable and intuitive.
Ergonomic keyboards are for everybody as long as you use a computer to input information. It is believed that using a keyboard that is not designed to fit your body can result in injury to the wrists over long periods of use.
Ergonomic keyboards work by allowing the right and left hands to type at a slight angle more naturally to the human form.
Interesting Reads:
Best quiet mechanical keyboards
quiet white noise machines for privacy
Types of Ergonomic Keyboards
There are different types of ergonomic keyboards that manufacturers have developed to help different hand shapes to type more comfortably and naturally.
The split ergonomic keyboard is the most popular among users. There are two main types of split ergonomic keyboards. These include; the "fixed-split keyboard" which is a single board with keys separated into two or three groups.
This allows the user to type at different angles which is more comfortable and intuitive.
The second type of split ergonomic keyboard is the "adjustable split keyboard" this type of slipt keyboard has the keyboard split into independent pieces, this so to allow you to change the angle between them easily.
The contoured ergonomic keyboard is a further development of the split keyboard. With this type of keyboard, the keys are located into two depressions approximately at shoulder widths, with function keys set between the key groups for use with the thumbs. In this configuration, very little movement of arms and wrists is required.
This type of ergonomic keyboard is sometimes referred to as the Klickenburg keyboard which is similar to the split type of keyboard.
However, with the angled split keyboard, the middle is tented up so that the index fingers are higher than the little fingers while typing.
A handheld keyboard mimics the design of a game controller and therefore can be used as such.
They allow the user the ability to move around a room or to lean back on a chair while also being able to type in front or away from the computer.
They also have the fanciest appearance among all the ergonomic keyboards. Some handheld keyboards even have a trackball so it will allow mouse movement and typing in just a single handheld device.
Final Words Silent Ergonomic Keyboards
Ergonomic keyboards are great for comfort, lower risks, wrists and arms strains. But having the best quiet ergonomic keyboard for work or travel is even better.
Why you may ask?. It is because working in silence without disturbing others and having your privacy is important. Especially these days that many offices are open floor design and shared workspaces are predominant.
The above quiet keyboards were selected based on user experience and intensive research. I hope you found the best silent ergonomic keyboard to increase your comfort, ease of use, and productivity.
Latest posts by Josephine
(see all)