How to Soundproof An Apartment Floor
I know you are here because you are looking for how to soundproof an apartment floor. If so, this guide will help you to reduce the floor noise in your apartment.
Floors are subjected to so much noise that some of these sounds are inevitable. sounds like footsteps, items dropping, television, conversations, washing machines, and many more.
The majority of the items in a room are placed on the floor. These items can make noise when in use. Some of the sounds made by these items can be unbearable to you the apartment owner and your neighbors.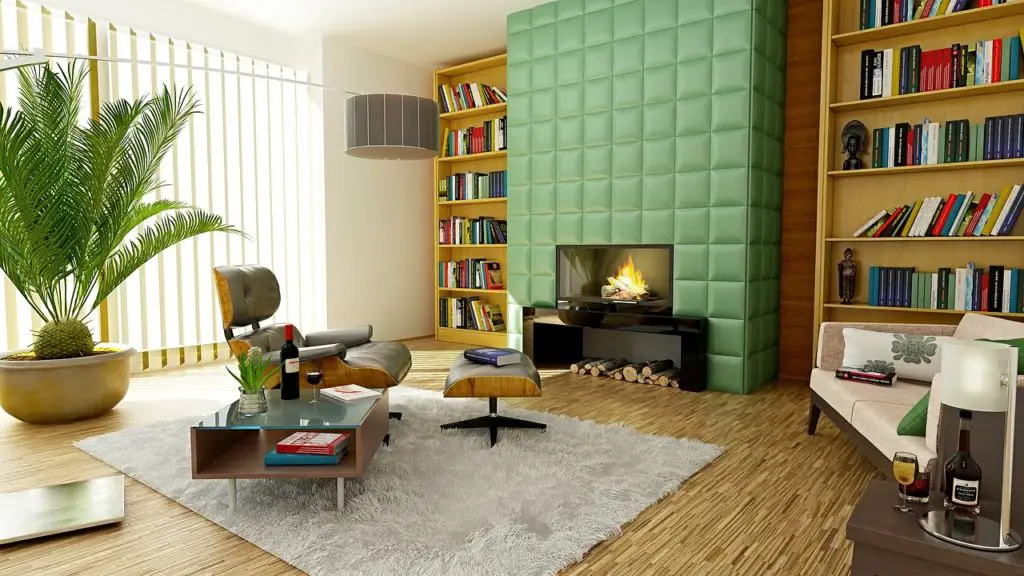 So, I do understand why you need to soundproof your apartment floor.  whether you are the noisemaker or you simply want to block the loud noise coming from the neighbors, either way, you will benefit from these soundproofing tips I am about to share here. when I was looking for how to soundproof my apartment floor, these tips came in handy.
How to Soundproof an Apartment Floor
There re many floor soundproofing products in the market today. So, you have enough options to choose from. The material and the way that you want to soundproof your floor will depend on you.
Even though the best way to soundproof a floor completely from noise is by installing soundproofing underlayment on the subfloor before the actual floor, it is important to know that you can still do something about the floor even after it is finished.
This is especially for apartments where you are renting and might not have the permission to make permanent changes t the floor.
Here I discuss some non-invasion ways on how to soundproof your apartment floor.
1. Install a Thick Carpet on the Floor
You would quite agree with me that the floor that has hard surfaces makes the most noise. Any little thing that drops or touches it sends loud sound waves across the entire structure.
That is why carpeting the floor is one of the great ways to reduce sound waves that are bouncing around or creating loud noise yourself.
I know you might be in love with your hardwood, tiles, or whatever floor you might have. But if you truly want to soundproof the floor, then it is best to carpet the floor with a  thick carpet.
You can find some at your local stores or use this Elephant back floor mat. It is a great floor carpeting product and I recommend If you don't have the time to go to the local stores to look for one. There are about seven different colors to choose from.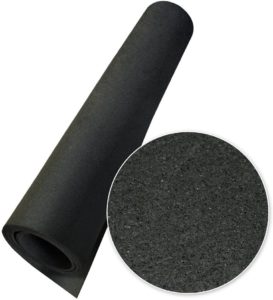 With a carpet, it is best to cover the entire floor with it for best results.
to install a temporary carpet is easy. No need to tuck the ends into the floor. all you have to do is simply place it on the surface to cover.
You don't need to ask for permission to place a carpet on the floor of your apartment if unless you know it will have some negative effect on the floor. I know carpets are safe to use on any type of floor.
2. Place a Thick Floor Rug Pad on the Floor
Rugs act much the same way as carpets, as they add density and absorb sound. Place a soundproof mat underneath the area rug to enhance the noise reduction.
Floor rug pads are another way to reduce floor noise in your apartment. These are mostly more beautiful than your traditional carpet and you can either use them alone on your floor or you can use them in conjunction with the carpet.
The way you do that is, you lay the carpet first and place the rug pad on top of it. Not only are floor rugs more visually appealing, but they also come in different sizes, colors, and thickness to select from to complement your room decor.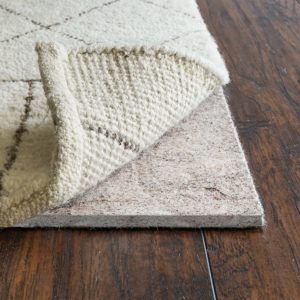 There are many floor rugs in the market but I recommend these non-slip rug pads from RUGPADUSA. Not only are they made in the USA, but they have really strong backing that is made of natural rubber to protect your floor from furniture and foot traffic damage. But most of all soundproof your floor from noise.
It is important to know that floor rugs can move around if they are not thick enough and you place them on a hard surface. If you choose to go for a light floor rug, then I will suggest you get a mat of the same size and place the rug on top of it.
3. Use Interlocking Puzzle Exercise Mats
These puzzle exercise mats are some of the best rubber floor mats for soundproofing your apartment. I know what you may be thinking. Arent these mats most used in gyms and school floors?.
Well, you are not far from the truth. However, these rubber floor mats for soundproofing can also be used for your apartment floor.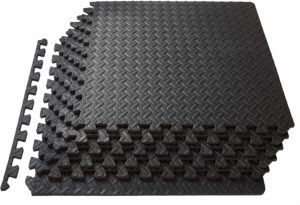 One advantage of these puzzle exercise mats is that, if any part of the payment damage, you only have to remove that part and replace it with a new one. They are usually made of non-slip surfaces to prevent injuries and you can easily clean them off any dirt or spillage by simply washing with soap and water.
These mats are made from a variety of materials ranging from cork, foam, and even a combination of these materials such as foam and rubber or cork and rubber. They come in assorted colors to choose from. You can mix different colors or you can choose one color.
To install these puzzle mats is easy. You simply start from one part of the room and start connecting them like a puzzle. I believe that is how the puzzle mat came about because you fix them like a puzzle.
If you are looking for the easiest and most affordable way to soundproof your apartment floors, give interlocking floor mats a try.
The Interlocking puzzle exercise mats will add density to the floor, which will help to reduce noise transmission and provide thermal insulation as well.
4. Use soundproof  Floor Tiles Mats
Do you like wooden floors? then you can have a soundproof floor made of wooden tiles. You use one stone to kill two birds.
These soundproof floor tiles work a similar way to the puzzle exercise mats just that these are made with tiles design.
If you are not all that into carpeting or area rugs, these rubber floor mats are a good option instead. These floor wooden tiles are laid on top of your existing floor.  You simply interlock them and it is that simple.
These tiles will add density to the floor and it acts as a great sound absorber, so it can easily help to reduce the transmission of unwanted noise.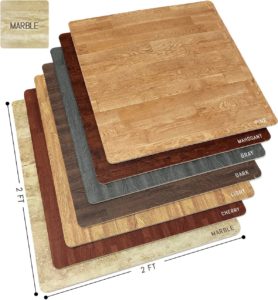 The increase your soundproofing floor efforts, you can try place a mass loaded vinyl mat or an area rug mat underneath the tiles.
The Interlocking floor mats turn any cold, hard floor into a comfortable, stylish surface. No more rugs to clean or cold hard floors! Enhance the comfort and appearance of your floor with the Sorbus Interlocking Floor Mat.
These are great for any part of the apartment. whether it is the kid's room, bedroom, basement, playroom, infant crawling area, interlocking exercise floor mats, yoga/meditation room, dorm, laundry room, or the living room.
Similar Reads:
Easy Ways to soundproof apartment wall cheaply
How to soundproof your apartment ceiling
Benefits of Soundproofing Apartment Floor
Soundproofing an apartment floor comes with a lot of benefits. Some of the benefits of  soundproofing floors include:
It allows you to enjoy the peace and quietness you need in your apartment absorbing some of the noise that may find its way into your apartment. You will be blocking some of the noise from the downstairs neighbors.
If you are the noisemaker,  then soundproofing your floor will help save you some complaints from annoyed neighbors. The carpet will help absorb some of the impact noise from footsteps.
Lastly, soundproofing the floors can improve the energy efficiency of your home. Many noise-canceling materials act as a source of thermal insulation, thus reducing heat transfer. This will save you some extra cash because your energy bills will be lowered due to the less energy consumption from the air conditioner during summer and heater in winter.
Does Noise Travel Up or Down An Apartment?
To answer your question, does noise travel up or down an apartment is that noise travel in all directions unless it is directed in a certain path. You won't experience more ore less traveling upstairs than downstairs.
However, the objects in the way of the noise will determine its intensity in the directions it is traveling. As the sound, hits objects, its absorbed, blocked, or reflected.
The distance you are from the noise source also determines its intensity. As the sound wave travels, it loses its intensity as it goes.
Many factors will determine which direction the sound travels.
On Soundproofing An Apartment Floor
when it comes to how to soundproof your apartment floor, you need to know that it is for your good and the good of your neighbor. Living in an apartment is great but noise is one thing you will have to deal with or have to control your noise in order not to disturb others.
All the above mentioned soundproof floor ideas are great for especially renters. These ideas are not permanent changes you are making to the floor and hence you don't need any permission from the landlord to buy a carpet, an area rug, puzzle floor mats, or floor tiles.
These soundproof materials don't damage floors and don't require you to make any change to the flooring of the apartment.
You simply need to place your favorite floor soundproofing material on the existing floor and it will provide the needed sound-absorbing and blocking to keep your apartment quieter.
All these tips provided above will reduce the noise to lower the sound level but not eliminate it.
If you want to completely soundproof, then I suggest you do a subfloor underlayment with mass loaded vinyl mat and soundproof compound or any floor underlayment before the main flooring.
This will require permission from the landlord before as it involves removing the present floor and laying the soundproofing before you but the floor back on top.
Latest posts by Josephine
(see all)