10 Best White Noise Fans-An Honest Buyer Guide and Reviews
Having one of these best white noise fans in your room not only helps keep your place cool but it also at the same time fills the airwaves with light background noise that serves as a lullaby.
White noise fans come in different sizes ranging from small to large ones. It is important to be mindful of your space when you are hunting for a white noise fan. The larger your room, the more powerful the fan you will need.
However, if you want the fan to primarily be for the provision of white noise rather than its cooling feature, the size of your room will not be a factor.
It is important to note that there are white noise machines that can be bought independently if you are interested in white noise fans without the breeze.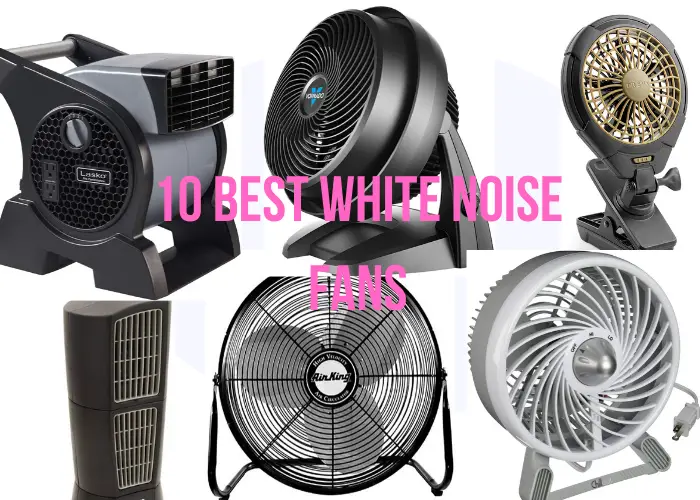 Quick Buyer Guide on White Noise Fans
Portability: The weight and size of a white noise fan are what determines its portability. There are fans
that are easy to move from one room to the other. There are also smaller ones that are travel-friendly and thus you can take them with you when you travel.
Loudness: Be aware of what purpose you want your voice to serve. A louder white noise fan is
functional in places where there is a need to cover daily noise. For people who want the white noise
fan for sleeping purposes, the noise does not need to be loud.
Price: It is believed that high quality products are priced higher, mostly because of durability. Also,
the price of products is dependent on the make and model. Research on the different fans before
deciding to buy because it will help you chose one that fits your aesthetics and is also within your
budget.
Flow of Air: Airflow is the primary function of a fan. Compare the power of each fan in directing
airflow before you settle for one. Fans can be stationary to blow air to your face or can have an
oscillating head to help in mixing air in a room. Ensure that you are aware of your preference before
making a purchase.
Quality of Material: It is very important to understand the quality of fan materials as it will dictate
the durability of the product. Cheap plastic will not make your fan last for long. Taking care of a fan
will also make it last longer, especially if the quality is good.
Stable Base: White noise fans can be placed anywhere in the house. Ensure that the stability of the
fan is good and that it can be placed anywhere without worrying that it might topple over.
Waterproof: This is important if the white noise fan is going to be used in places where there is
water. Buying a waterproof white noise fan will help you get the value for your money, especially
when it is to be used in the bathroom or in a spa.
10 Best White Noise Fans
It can be quite daunting to find and settle for one white noise fan that generates fan based white noise because there are plenty in the market.
Getting a good fan and one that suits your needs is very crucial since you will not have to buy one often.
To help you out with the process of sampling different fans, here are the ten best white noise fans
that you can choose from; Whether you are looking for a white noise tower fan to help you sleep or a small loud noise fan for travel we have you covered.
1. Lasko High Velocity Utility Fan
It has a pivoting high velocity airstream blower, which outputs loads of air and has a good constant
noise. Lasko Hv Utility Fan is ideal for a hot sleeper. However, the fan is not loud enough to make
someone fall asleep.
It is a bit pricey compared to other fans on this list. Hot sleepers find this fan very useful since it takes
out the possibilities of restlessness at night.
It is also useful for people who have difficulty in sleeping because of its cooling abilities and white noise production.
The lowest settings produce minimal white noise while the highest setting produces a decent amount of white noise.
2. Chillout Personal Fan
It is a noticeable but a subtle fan, thus known as a low-profile personal fan. It has two speeds and
can fit on desks, nightstands, and tabletops.
It comes with a one-year warranty, which is an advantage if there are issues. Chillout personal fans are safe purchases for your home.
It is a cheap option considering that it has great features. The high setting produces a sufficient flow of
air to make you chill in your home or work environment. It produces the right amount of white noise
to help you focus on what you are doing.
The low setting circulates the air and is quiet to allow normal conversation levels while the product is running. It's one of the best fans white noise fans for sleeping or working.
3. Vornado Whole Room Air Circulator Fan
It is a stronger and louder fan for your entire room. It is a very good quality product that is
multidirectional, which means that it can direct air in the direction that you want.
The fan is an ideal fan if you prefer a ton of airflow since it uses vortex technology to circulate air up to 70 feet.
You are more likely to hear whooshing air rather than hearing the mechanical sound of blades when you use this fan.
With Vornado fans, the medium and high settings help in the production of the nice level of white noise that helps in putting you to sleep. The product fits well on nightstands.
The ability to adjust the angle allows you to point the fan directly to the direction that you deem fit. Additionally, it has a five-year warranty, which is mainly because of its price being on the higher end and the product having great quality.
4. Lasko Wind Machine 3 Fan
Lasko Wind Machine 3 is very loud and blocks noise completely making you get sound and quality
sleep.
The quality of the product is very good. It has a large 20" pivoting head that is important for
optimum circulation and flow of air. It is very convenient because of the carrying handle that helps
you move it from one room to another.
This fan has three different speeds that help you pick the one that you prefer. It weighs less than 10
pounds, making it easy to lift and move around.
The price is on the higher end but it is worth every coin. It puts out a good amount of air and serves
as a good white noise machine and one of the best fans for white noise. It is highly recommended to individuals who find it hard to sleep without background noise.
5. Air King White Noise Industrial Fan
This is the best white noise industrial fans if you need plenty of power and a soothing white noise.
Air King fans are floor fans with a pivoting head, steel blades that are powder-coated, and a mounting option for versatility.
Its width is 20 inches but comes in different sizes that you can choose from depending on
your room size.
It produces quality white noise that lulls you to sleep. It does a pretty good job with air circulation
and flows. Plus, It helps in keeping the room cool and is best known to meet all your needs.
6. Marpac Dohm Sound Machine Fan
It is a portable fan that was designed for those who are traveling light and the weather is too cold to
deal with the flow of air. It's a small loud fan for travel.
Marpac Dohm sound machine fan helps you to drown out the world with a relaxing fan noise. This is attributed to its asymmetrical blades inside that helps to create the soothing sound of rushing air without pushing air out.
The fan is a great way of experiencing the sound of white noise fan without any of the cooling
effects. There is a rotating fan that is set within the acoustic housing of Marpac Dohm.
It only has two settings but serves its purpose well. It will suit you if you like sleeping with a box fan that does not blow dust or air into your face.
The price is a bit high compared to some of the products on this list. It mimics the noise of fans and
has 2 speeds and an adjustable cap that alters the tone of the air. It is small and can be packed when
traveling.
It increases the flow of air but you will not feel the breeze. It is efficient for people who like fans only
for the purpose of white noise. The audio frequency of the fan will change depending on the
disruptive nature of air.
Although it lacks fancy settings, you are able to customize the volume, pitch as well as the speed
until you find what works best for you.
7. Holmes Lil' Blizzard Oscillating Table Fan
It is a surprisingly loud fan for its size. The oscillating motor helps to add to the white noise. It has
two speed settings and you are able to tilt the head in any direction that you want.
The front part of the fan can be pulled apart easily when cleaning.
Holmes Lil' Blizzard Oscillating Table Fan is very useful during hot and humid months. It is also
possible to change the speed of oscillation to suit your liking, using the two powerful speed settings.
The oscillation offered is very smooth, with the two speeds circulating air efficiently in your room.
It offers good white noise as well as good cooling effects. It ensures that noise is blocked completely
rather than making the noise have an irritating rattle. The oscillating feature is a bonus since it
allows great circulation and flow of air.
The product is backed up with a one-year limited warranty, which protects the product against the
unfortunates.
The product is also equipped with oscillation to help it cover a wider area. It is lightweight and portable, thus, it can be used anywhere, whether at home or in the office. It is very convenient in places where air conditioners lack.
8. O2COOL Clip Fan
It is a clip fan that is operated using batteries. It measures 5" making it a great option for travels. It
delivers the right amount of white noise that is necessary for sleeping.
The head of O2COOL Clip Fan pivots 360 degrees, hence you have the option of aiming the flow and circulation of air in any direction that you prefer. The clip is perfect for attaching the fan to your bedside table or your headboard.
It is very affordable. On the low, you can barely hear it but on the high, it puts out quite a bit of
white noise for its small size. It is worth the money.
The fact that it uses batteries makes it ideal when there is a power outage. Additionally, it can be used
for both outdoor and indoor activities, such as in an office, travel, camping, car, baby stroller, and picnic.
When the fan is clipped anywhere, it can be manually used to direct flow and circulation of air towards you.
The clip is very sturdy and thus minimizes the risk of budging easily if it is used in a workshop or areas that there is increased foot traffic.
9. Holmes Box Fan
Box fans are considered the best options and are preferred for white noise sleepers. They produce
the loudest noise.
The Holmes box fan has three speed settings, a convenient 5" cord, and it is great for constant sound. It features a motor that is highly efficient, which will help you save on electricity. Also, it has a one year warranty.
It has a 20" blade diameter and it is designed to facilitate the flow of air maximally. The three speed
settings for Holmes Box Fan are low, medium, and high. The high setting is quite loud.
Nonetheless, the low setting provides a soothing sensation during the night.
It comes with an integrated carry handle that makes it easy for it to be moved around. The 5" cord is
easy to store in case you want to carry the fan from one place to another.
It is affordable and serves its purpose well. It has the ability to cancel noise which is the reason why
many people opt to buy it.
The loud white noise sound that is produced by Holmes box fan helps you to sleep soundly by perfectly blocking outside noise. It is very powerful considering its small size.
The fan consumes energy efficiently, therefore, little energy is required for it to run. You will not
have to worry about increased utility bills when you use Holmes Box Fan.
Another advantage is that you can set it on any surface because it has attachable feet that increases its stability.
Also Check out: 
top sound deadeners for the money
Affordable soundproofing materials for your home
Noico sound deadener vs Kilmat sound deadener 
Best white noise machines for office privacy
Quiet central air conditioning units  for keeping cool
The disadvantage of the fan is the smell it produces when it is functioning. It emits a smell similar to
that of rubber on fire. It creates anxiety since you are not sure if the wires will catch fire, which can
be hazardous.
10. Lasko 4916 Desktop Wind Tower Oscillating Fan
Lasko 4916 is a small but powerful oscillating white noise tower fan that can be used as a compact fan for your room.
It has three speeds, two separate sections that pivot for wider coverage, and a stacked design that helps to save on space. The fan is space conscious, which is one of its advantages.
It comes in different colors that you can choose from and also has different styles that can be used in
your apartment.
It is also convenient due to it's the ability of the controls to be mounted on the front. Also, the fan has an in-built handle that is useful for moving from one place to the next.
It is relatively cheap and small. The breeze produced by the fan is powerful. The fan is more efficient
in small rooms.
The white noise produced by Lasko 4916 helps you sleep peacefully. Although it produces blue light, it can be covered using a black cardboard paper for those who do not prefer to see any light during bedtime.
It produces enough white noise to help you fall asleep. It has three-speed settings as well as an oscillation that is multi-directional. As much as it provides white noise, you can be sure that it will improve the flow of air in your room.
It may not be the best choice if you want to increase airflow in a large room. The stacked design helps it to only blow cool air into the immediate surrounding and this is why it serves the best as a desk fan.
Final Words on White Noise Fans
Sleep and quietness are essential for everyone's wellbeing. But sometimes, these can seem like a luxury to us because of external different factors we might not be able to control.
However, with these best white noise fans reviewed above, I m sure you can get the sleep, the cool air, and the concentration that you need.
Some of these white noise fans are portable to travel with, Even if you enjoy outdoor activities, you can go with the battery powered fan to help you chill out without stressing about the heat.
These fans have different prices, depending on your budget, you will get something for yourself. Some are very affordable.