Best Soundproof Dog Crates to Reduce Loud Sounds
Looking for the best soundproof dog crates?. Soundproof dog crates are a great way to reduce barking noise to protect your pet friend against loud sounds such as thunderstorms and fireworks.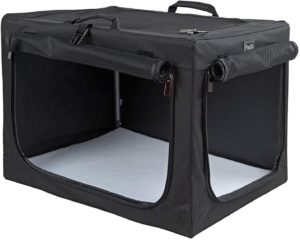 So today, I will be looking at some of the top soundproof dog crates for thunder, barking, and fireworks.
These quiet dog crates are not going to completely eliminate the sounds, but the sound will be reduced greatly. They are also easy to travel with and will help reduce anxiety and discomfort to your pets when you are transporting them with a soundproof pet crate.
A Quick Table of Comparison of the Quiet Dog Crates
Best Soundproof  Dog Crates
There is a lot of noise in our environment we have no control of. But since dogs are even more sensitive than us, they easily get anxious at a loud noise.
To help reduce the level of noise your dog is exposed to, I have researched some of the top-rated soundproof crates that will help your dog become calm amid these sounds.
These noise reduction crates also absorb and block dog barking sounds.
1). Petsfit Dog Crate
The Petsfit dog crate comes in three sizes, small, medium, and large. You can also select from the two colors that are available.
It's a great dog crate for both indoor and outdoor use. It is also lightweight and foldable to allow you to be able to travel with it.
The Petsfit dog crate is designed such that even if your dog likes chewing stuff off, it won't be able to chew it off.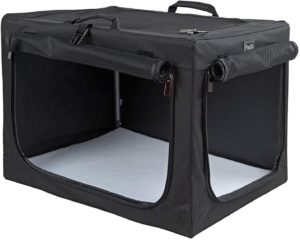 This crate is designed to be stylish and at the same time, the material used in making the cover is having noise reduction ability. It can absorb and reflect sounds.
The soft pads give this dog crate its soundproofing ability. It's removable and washable. This will ensure your friend is using a clean and comfortable crate.
Two sides are openable and the top as well. This gives you the ability to open any of these sides for ventilation and close it off when you like. Several mesh designs make it good ventilation, and lips to secure the zippers.
The Pet crate comes with a 1-year warranty; in case of any problem, you can send it back for replacement.
2). AmazonBasics Premium Folding Portable Soft Dog Crate
This AmazonBasics premium folding dog crate is made of soft-sided polyester and PVC carrier.  There are many vibrant colors and sizes to choose from. From small sizes to large.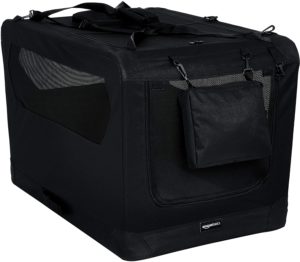 It is designed to have a high-ceilinged interior that will help reduce noise and travel anxiety. It also features multiple mesh windows that create excellent ventilation.
Another cool thing about this premium dog crate is that it is easily collapsible and stored or transported. Putting it back in shape for use doesn't require much as well.
It is designed to give your pet friend a soft, cozy, and comfortable space to relax in when traveling or at home. it is one of the best dog crates for plane travel.
To keep it clean, simply hand wash it at low temperatures.
3). Precision Pet Soft Side Crate
This Precision Pet soft pet crate is stylish and beautiful. There is a size for every dog. About 5 different sizes to choose from. You can take it with you anywhere you go and for convenience, it is easily foldable to store away or transport.
This dog crate is made of durable plastic floor and a quality canvas cover is odorless and moisture resistant. The sides of the crate feature heavy-duty zippers that allow you easy access.
The rear and side pockets come in handy for the storage of treats, toys, and food. Another convenient feature is the holder that allows you to hold a water bottle.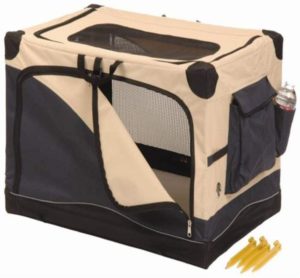 The bottom panel can be eliminated for Easy cleaning, and because the crate as a whole is made from waterproof material you'll have the ability to wash it out easily if your animal has an accident.
The navy and tan combination gives this crate an amazing outlook, which makes this collapsible dog crate a trendy and Functional item that will make certain to keep you, and your puppy, happy for quite a while Functionality and you'll make certain to get the most from your purchase. This is one of the best soft-sided dog crates.
4). AmazonBasics Soft Foldable Travel Dog Crate
This pet crate is from none other than the almighty Amazon. It looks classic and the functionality is amazing. This foldable dog crate comes in about five different sizes. So, depending on the size of your pet, you will definitely get the right size.
The crate is designed in such a way that it can easily be folded and carried with you when you are traveling or storing it away. It is easy to bring it back to shape.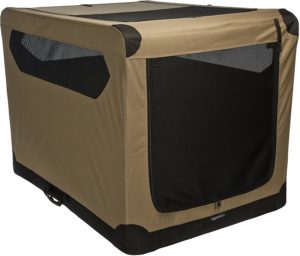 This portable dog crate works well for crate training and makes it easy to temporarily contain your pet no matter where you go, plus it offers a comfortable go-to spot when your pet needs to rest.
The construction is made of PVC and the fabric is polyester, so it is easy. This Amazon soft dog crate is backed by a 1-year warranty. The design of this crate allows it to absorb a certain amount of sounds.
The NOZTONOZ(R) Sof-Krate Pet Homes are available in five sizes to accommodate almost any size of the pet. This crate is foldable just like the ones above. The Noz3Noz dog crate is easy to break down and set up.
Some push-button tabs and couplers are located in the steel frame tubes. They allow the crate to be raised or collapsed just within seconds. Its lightweight design makes it extremely easy to carry and move from place to place.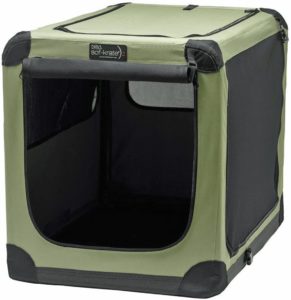 The materials used in the construction of this pet crate are water-resistant. This makes it easy to clean up when it's dirty.
The Soft-Krater is made out of non-toxic materials without any sharp edges inside, in addition to rounded corners on the outside to secure your car and house from harm.
Can I Soundproof My Dog Crate?
Yes, you can soundproof your dog crate and in my recent article on how to soundproof a dog crate or kennel, I showed a lot of ways you can reduce noise in your dog crate using simple soundproofing ideas.
Dogs have sensitive hearing and can easily get anxious or frightened of any loud noise, especially those fireworks and thunderstorms.
Soundproofing a dog crate will also help reduce dog barking noise from disturbing your or your neighbors.
Some of the ways you can soundproof a dog crate include;
Using Moving Blankets: Moving blankets or soundproof blankets are designed for the purpose of noise reduction. They are thicker and denser than your usual home blankets. You can use the moving blankets to cover the crate. This way, it can absorb or block the loud sounds before they get to the dog. Also, it absorbs some of the sound energy from the barking before it gets out. This is one of the best soundproofing materials for barking.
Using a Soundproof Crate Cover: These soundproof dog crate covers are made with soundproofing materials to reduce noise. You simply use it to cover your dog crate to reduce any loud sound from frightening them or reduce their barking noise. If you want a soundproof dog room, you can use this cover to create one by yourself.
There are other ways you can soundproof your dog crate and in the article above, I went into more detail on some of the ways to soundproof dog crates by yourself.
Are Quiet Dog Crates Really Worth It?
Quiet dog crates are specially designed to reduce noise in and out of the dog crate. if you will agree with me, dogs can easily get anxious about anything that they don't understand or if the sound is really loud.
If they get frightened too they begin to bark. So, how do you stop this, a quiet dog crate also known as a soundproof dog crate is one of the ways of reducing these feelings and noise.
You might argue that there are other ways to stop your dog from barking or frighten. Yes, there are but a quiet dog crate is a great way you can also soundproof noise around your friend.
If unless you have your entire house soundproof, then a quiet dog crate is a good product to have. Not only can you use it at home, but you can also use it to transport your pet anywhere you are going including even taking flights.
So all in all, quiet dog crates are versatile in use and can be used for a lot of different purposes.
Final Words on Soundproof Dog crates
Whether you are looking for a sound dog crate for thunder, a soundproof dog crate for fireworks, a soundproof dog crate for barking, or you simply need a soundproof dog room, These above-mentioned best dog crates can help you achieve that.
They are made to keep your dog safe and secure. Even though these dog crates might not eliminate the sounds, they will reduce the intensity of the sounds.
To further reduce the sounds, you may want to add some of the soundproofing dog crate techniques I discussed.
Latest posts by Josephine
(see all)